Name:
Dr. Akhil Ranjan Garg
E-mail:
agarg@jnvu.edu.in
Mobile No.:
9414135765
Address:
55 BHAGAT KI KOTHI EXTN SCHEME Jodhpur
About the Department: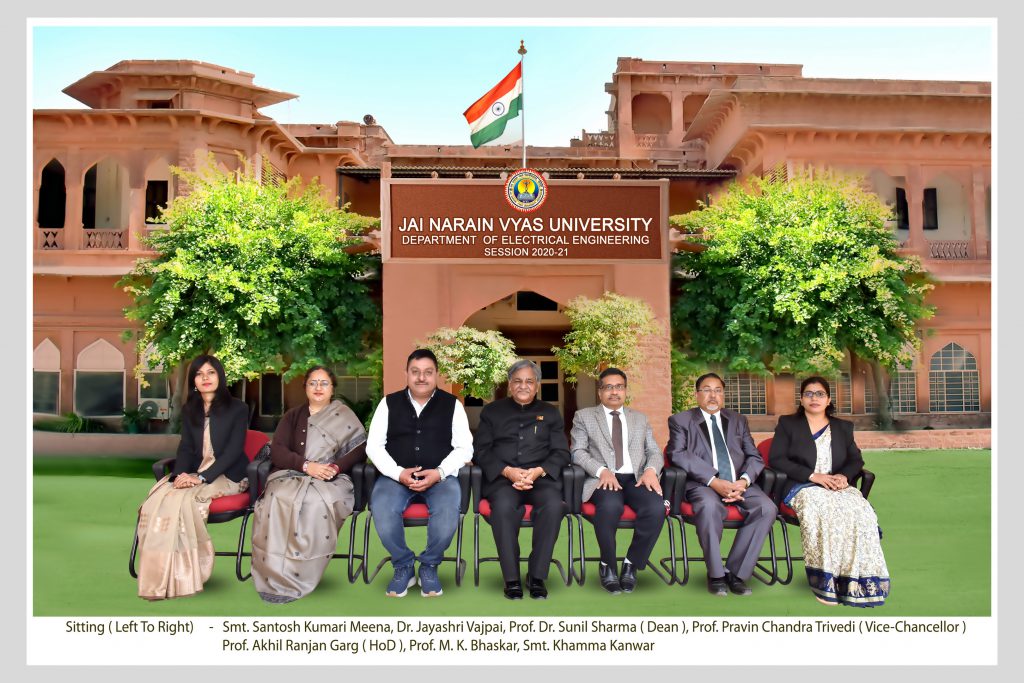 VISION
To impart state of the art technical education and skills to budding Electrical Engineers for transforming them into globally competent technocrats, researchers, consultants and entrepreneurs having high professional ethics.
MISSION
M1: To produce Electrical Engineers having strong fundamental knowledge, high technical expertise, exposure to research with modern tools of design and high-end technology.
M2: To inculcate the capability of applying the acquired knowledge for developing cutting edge technologies.
M3: To create a conducive environment for learning and innovative research in which continuing education can flourish.
M4: To provide platform for interface between industry and academia for disseminating state of art technology for sustainable socio economic progress.
Program Educational Objectives (PEOs)
The graduates of Electrical Engineering Department will be able to:
PEO1: Imbibe and Exhibit the fundamental knowledge of Electrical Engineering.
PEO2: Make a mark as competent engineers in technical world.
PEO3: Conceive the need of the society and design technically viable innovative applications and products.
PEO4: Work effectively in teams to achieve big targets as envisaged by the employers.
PEO5: Contribute as an effective and valuable member of the society to promote the development of scientific temper, ethics and integrity
Thrust areas of this department : Power Systems, Control Systems, Soft Computing, High Voltage Engineering.The Department has been carrying out outstanding research in various fields. It has shown its worth by publishing research papers.The alumni of the Department are holding prestigeous position positions in national and multi-national organisations.
Academic Programmes
Programme Level of Study
B.E. U.G.
M.E. Electrical (Control System) M.E.
M.E. Electrical(Power System) M.E.
Ph. D. Ph. D.
National/international seminars and workshops organized by the Department
This department has collaborations for promoting teaching, research with defence lab., RRVVN, Jodhpur.
Major thrust areas within the subject
Power Systems, Control Systems, Soft Computing, High Voltage Engineering.
Facilities in the department
Image Processing, ECG Set up, MAT Lab- 6 Software
This department offers consultancy services in electrical engineering
4Outstanding achievements of the Department
The alumni of the Department are holding prestigeous position positions in national and multi-national organisations