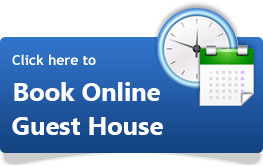 Jai Narain Vyas University, Jodhpur-342005
Address: Back side of Residency Hospital, Arora circle, Near Vice Chancellor house, Jodhpur, Rajasthan 342005
Ph: +91-9314010029,+91-9414493602, +91-7231003888
Email: jnvuguesthouse@gmail.com
Click here to See Guest House Tariff
Click here to See University Guest House Facilities
About the university Guest House
Jai Narain Vyas university guest house was established in 1962 to provide comfortable and affordable accommodations for teachers and administrative fraternity who are visiting the university on officially or on personal basis. With a range of well-appointed rooms, delicious meal options, and convenient amenities, the guest house is also popular to the budget conscious travellers and those seeking a more authentic local experience.
The guest house has 10 AC rooms with double occupancy and 07 AC rooms for single occupancy. There is also one VIP suite available for VIP delegate (available only after vice chancellor's permission)
Guest houses provide the following basic facilities:
• Location: guest house in located in the centre of the jodhpur city. Distance from jodhpur railway station is only 3.0 Km and from airport is 3.5 km.
• Accommodation: Clean and comfortable rooms with private bathroom, air conditioning and other amenities.
• Entertainment: In-room TV, free Wi-Fi.
• Reception: 24/7 front desk with staff to assist with check-in, check-out, and other needs.
• Common areas: A lounge, TV room, or garden area where guests can relax and interact with other travellers.
• Basic amenities: room heater in winters, geyser, bed linens, and towels. Electric tea cattle with tea bags/ coffee sachets and sugar pouches.
• Parking: sufficient parking space.
• Meal: delicious homely feed meal and small breakfast are provided to the guest as needed cooked by experienced cook in the kitchen.
• Safety and security: guest house is surrounded with boundary wall and equipped with CCTV camera surveillance.
• Power back up: a DG set is available for providing uninterrupted electrical supply.