Name:
Mr. S.K. Singh
E-mail:
sukusi@gmail.com
Mobile No.:
9461088853
Address:
IV-F/NEW, SECTOR 1, UNIVERSITY STAFF COLONY, RESIDENCY ROAD, JODHPUR-342011
About the Department: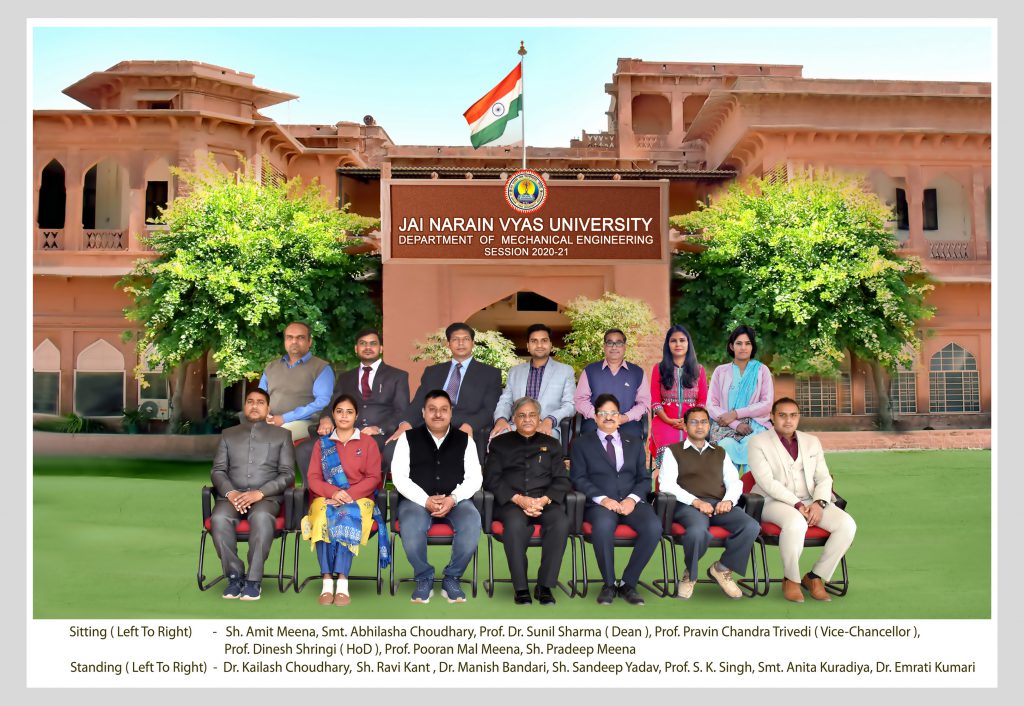 Mechanical Department E-brochure
Department was established in year 1952 to impart quality education in the area of MECHANICAL ENGINEERING. This course has high demand in various industries. The department has well equipped Internal Combustion (IC), Automobile, Instrumentation & Control, RAC, Steam, Technical Dynamics, Fluid Mechanics (FM), Heat and Mass Transfer (HMT), Solar Panel House, ANSYS, CAD/CAM, Industrial Engineering, Production Engineering, Metrology, Workshop, Product design and Development Laboratories. The department has specialization in Thermal Engineering, Design Engineering, Production & Industrial Engineering, Supply Chain Management, Performance Measurement, Information Systems, Solid Mechanics, Structural Design.
Vision of the Department
"To provide quality technocrat compatible with global standard in the field of mechanical engineering who can contribute to society through innovations, entrepreneurship & sustainable development".
Mission of the Department
M01: "To impart highest quality in fundamentals, technical knowledge & scientific education to the learners to make them globally competitive mechanical engineers".
M02: "To promote liaison with world class industries & educational institutions for excellence in teaching, research & consultancy practices".
M03: "To make students, life-long learners, ethically and technically capable to build their careers in terms of professions and personality"
Program Educational Objectives (PEOs)
| | |
| --- | --- |
| PEOs 1 | Fundamental knowledge in science, mathematics, and engineering so as to comprehend, analyse and design the mechanical engineering related real life problems. |
| PEOs 2 | Specialized area of mechanical engineering such as thermal, design, production & industrial engineering with focus on research & entrepreneur innovation to train students for successful professional career. |
| PEOs 3 | Exhibit communication, team work & project management skills in their professions& communities. |
| PEOs 4 | Research & development with strong professional, moral & ethical values. |
Program Specific Outcomes:
PSO1:  To empower the students to understand the basic concepts of mechanical engineering. In addition to this, application of theoretical and practical skills to solve complex mechanical engineering problems with the use of advanced software tools to arrive at appropriate and cost-effective solutions.
PSO2:To develop entrepreneurship skills compatible with industrial readiness and can pursue higher studies in mechanical engineering or interdisciplinary programs with the concern for sustainable development of society and high retard of ethical values.
Courses (Mechanical Engineering)
Course
Stream
B.E.
Mechanical Engineering (science 1952)
M.E.
1.      Thermal Engineering (science 1967)

2.      Production & Industrial Engineering (science 1967)

3.      Design Engineering (science 1967)

Ph.D.
Doctor of Philosophy (Ph.D.) in Mechanical Department is also running (science 1969)
Sanction Intake for UG and PG Program
| | | |
| --- | --- | --- |
| S.No. | Programme Name | Number of students |
| 1. | UG – Mechanical Engineering (B.E. – Bachelor of Engineering) | 60 + 3 (TFWS) |
| 2. | PG – Specialization in Thermal Engineering (M.E. – Master of Engineering) | 18 (Full time) + 1 (Part time) |
| 3. | PG – Specialization in Production & Industrial Engineering (M.E. – Master of Engineering) | 12 (Full time) + 13 (Part time) |
| 4. | PG – Specialization in Design Engineering (M.E. – Master of Engineering) | 7 (Part time) |